"Wissengewaechs (Growth of Knowledge)"
2007
Christa SOMMERER & Laurent MIGNONNEAU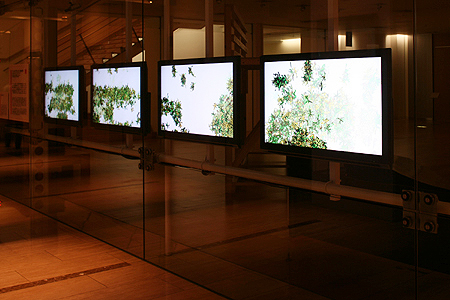 photo: KIOKU Keizo
As you approach one of the installation's monitors, a virtual plant appears on the screen, and starts to grow. The kind of plant and the way it grows is determined by the distance between you and the monitor, as well as how you move. If, for example, you stay still, one type of plant emerges, or if you move slowly, the plant might follow you, extending into the next, bordering monitor. The more users, the faster the plants grow.

This piece was installed for a year in the exterior glass of the temporary facade of a building in a plaza in the center of Braunschweig, Germany. The building had two functions; it was a café, and an book exchange library. This piece was commissioned by the city, to catch passersby's attention and lead them into the building. With this piece the artists assimilated the way users exchanged knowledge through various direct and indirect communication forms, whether in conversations or book exchanges, both of which took place within the building, and expressed it in the ways that the virtual plants foliated: The perceived depends on the perceiver. Time can also cause us to see the same things in completely different ways. The kind of plants which grow depends on how we interact with the piece.
Christa SOMMERER & Laurent MIGNONNEAU Profile
Christa SOMMERER, who studied plant biology and art, and Laurent MIGNONNEAU, who studied art and electronic media, have been collaborating since 1992 based on the concept of "Art as a Living System" and are renowned as the leading creators of interactive art. From 1994 through 2004, they worked in Japan as artists/scholars in residence at the Advanced Telecommunications Research Institute International (ATR) in Kyoto and were associate professors at IAMAS (Institute of Advanced Media Arts and Sciences + International Academy of Media Arts and Sciences) in Gifu. Currently they are heading the Interface Culture department at the Institute of Media in the University of Art and Industrial Design, Linz.
Past Exhibition / Event
Keyword:

Interactive
The interactivity of a work is evaluated in how it reacts and changes according to its users' actions. Advances in computational power and sensor development have helped such works detect user behavior and other changes in their environments more accurately, and have accompanied a rise in interactive art since 1990. Interactive works are now often found in commercial spaces. Since the work presents differently according to who experiences it, and only functions with the active participation of viewers, interactive works are known for never having a definite static state.