"Information Falls Like Rain"
2007
ISHII Yoko + NAKASHIGE Mutsuhiro + KOBAYASHI Minoru
NTT Cyber Solutions Laboratories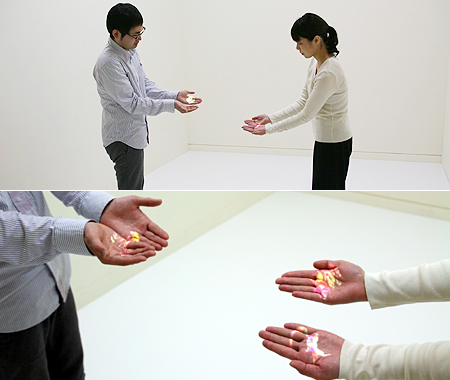 photo: KIOKU Keizo
Entering the exhibition space you extend your arm, palms upturned towards the ceiling, and images are projected down onto them. Different images are projected on each palm, but when two hands are brought together, the two images interlock and a third image sequence begins.
This installation is based on research into new possibilities for collaborative dialogue between people operating computers with imaging devices. It clearly communicates a method for transitioning from the buttons, switches, mouse, keyboard, and other common mechanical interface in favor of the common-sense carrying device: the palm of your hand.
ISHII Yoko+NAKASHIGE Mutsuhiro+KOBAYASHI Minoru Profile
ISHII Yoko
Born in 1979. Researches human interface design, and produces interactive art pieces.
NAKASHIGE Mutsuhiro
Born in 1976. Doctor of Engineering. Engaged in the study of human interface design.
KOBAYASHI Minoru
Born in 1964. Doctor of Engineering. Engaged in the study of collaborative media, and computer human interaction.
Past Exhibition / Event (KOBAYASHI Minoru)