"emergencies!" 009
TADA Hitomi
"zenteki ni ibitsu na koukatsu -ver.2- (Eccentric News)"

Date: July 12 (Sat.)-September 21 (Sun.), 2008 [Finished]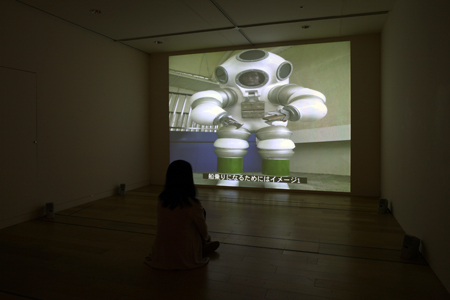 photo: KIOKU Keizo
The work is based on an original software program which gathers news reportage from the web, reads it using an automatic text-to-speech software, while at the same time searching the web for related images and captions which it presents them in a flow of reassembled recontextualizations.

"zenteki ni ibitsu na koukatsu -ver.2- (Eccentric News)" is the second work of a series which converts the daily stream of information and imperatives around us to data, and through processing and converting them, visualizes the occasional pale malaise or discrepancies in our lives. Through the continuous text-accompanied switching images, the odd resonance of the artificial voice reading the news and strangely de-contextualized imagery, we see the disparities, and the new meanings produced in this dysphoria. Eventually the data substitutions accelerate, and we enter a mode where memories become labyrinthine... This work, which automatically remixes a resource of existing data, focuses our attention on the different emphases, and different memories, and through their perturbation, approaches acts of creation and awakening.

The Japanese title, "zenteki ni ibitsu na koukatsu -ver.2" is derived from two sources. The first is that Japanese language data input methods require a step of selecting a given set of Chinese characters for their phonetic readings. The number of possible variations can make for an number of unlikely false results. Often such mistakes are interesting, as in the case of this title, where the author was performing an optical character recognition scan of the "Roppo", Japanese legal code, and the term "socially healthy conduct", was translated as something quite "other".
TADA Hitomi Profile
Born 1985 in Kagawa Prefecture, TADA Hitomi graduated from Information Design Department of Tama Art University and currently in the first year of the Design Course of the Graduate Program at Tama Art University (the Sound & Media Art Lab, Art Science Faculty). She produces installation, interactive art, live performance, etc. by utilizing various media including image, sound and Internet.
URL: http://tadahi.com