"Arithmetik Garden"
2007
SATO Masahiko + KIRIYAMA Takashi
"Arithmetik Garden" was on exhibition from April 19 to August 31, 2008.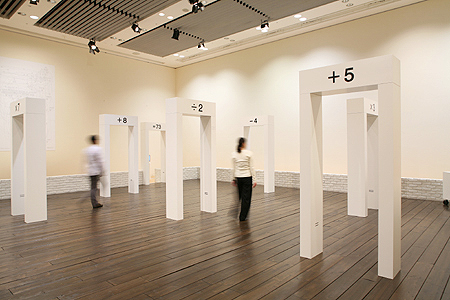 photo: KIOKU Keizo
Select a numbered card with built-in RFID tag, affix it to your person, and enter the "Arithmetik Garden." Passing through the gates (with the calculating formulas shown) starts the "garden's" calculations of your number. When their sum becomes exactly 73, you are finished, and can leave the "garden." "Arithmetik Garden" was created to substitute a concrete idea of calculation for our usual abstract one. Becoming numbers ourselves allows us to experience calculating and being calculated via the position of our own bodies in this space.

We can not foresee the route to reach 73 at the beginning. Even though it is possible to choose a number that can reach 73 in four steps, in most cases, user analysis shows, we will probably pass through the gates more than four times to reach our tally. State transition diagrams, with some of the shortest paths illustrated, are common tools for referencing system behavior when, for example, determining optimal system architecture. Of course you don't have to think that the shortest calculation is the optimal result when in the "Arithmatik Garden." There is only one goal number, and that is the number 73. Yet the time and thought we invest in stopping and considering each calculation formula, or considering the maps on which our routes between the gates are printed, these all contribute to reaching 73. You could say that themselves are other substitutions for 73.
Funded: Hayao Nakayama Foundation for Science & Technology and Culture
Support: Dai Nippon Printing Co., Ltd., Takaya Corporation, Total Interior Sugahara Co., Ltd.
Production staff: ISHIKAWA Masaya (graphic design), YASUMOTO Masasuke (software development), FUJITA Yoshikazu (device development)
SATO Masahiko + KIRIYAMA Takashi Profile
SATO Masahiko and KIRIYAMA Takashi formed Euclid in 2006, when the Graduate School of Film and New Media opened at Tokyo National University of Fine Arts and Music, and they have been busy creating form and genre agnostic expressions with underlying scientific technology ever since. SATO's creative activities, in a variety of media, characterized by his unique methods and ideas, have gained him considerable acclaim. His studies include: experimental design in brain science and researching new fields for expression. KIRIYAMA started researching making design more intelligent, but is currently is working on establishing a theory of image media.
Past Exhibition / Event (SATO Masahiko)
Keyword:

Process
Computer programming languages are written neatly in order of procedural execution. Process means procedure or protocol. The term is also used as an executable unit of a computer processing program. In "Arithmetik Garden," the execution process is traceable using RFID technology to automatically follow the user's progress. Acting as the user formulates a plan creates a new reality, and then when the user has formulated a new plan, the process of moving forward while trying it out creates a sense of beauty and enjoyment, which has something in common with problem solving in the most general sense. Related Event Artists' Talk
Date: April 26 (Sat.), 2008, 2:00 pm -[Finished]| >Details |