"Sensitive Moments"
2000-08
Jean-Louis BOISSIER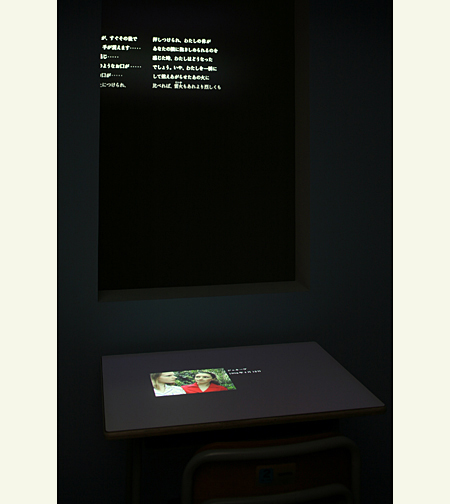 photo: KIOKU Keizo
When you move your hand over the projected image on the school desk-like table, like you would to flip a book's page, the image moves either left and right accordingly, and the text that appears through the window scrolls. The scene edits are linked by keywords from the text, such as "self," "time," and "place," and suggests new possibilities for literature by seeing, listening, reading, and looking, and therein intuitively accessing the world of French thinker Jean-Jacques ROUSSEAU (1712-1778) via this moving image interface. BOISSIER states that he focused his attentions on "a story recomposed retrospectively in prose" of ROUSSEAU's literature, envisioning an interactive piece that viewers experience in an intimate manner. The images were shot by BOISSIER himself, following ROUSSEAU's actual footsteps. The sensuous imagery complements ROUSSEAU's non-verbal subtexts. By weaving together these texts and images, viewers are invited on a journey to discover ROUSSEAU's thinking, through encountering the visual experiences from which his texts were born.
Jean-Louis BOISSIER Profile
After studying mathematics and physics, Jean-Louis BOISSIER began his career in graphic design, photography, experimental film, and installation works, since the early 1980s adding interactive art. SIince 1990, he has focused on developing works based on ROUSSEAU, as well as collaborative research on interactivity as both means and end, in interactive stories. He is professor of Aesthetics at University of Paris 8, director of the Laboratory for New Media Aesthetics at University of Paris 8, and research director at École Nationale Supérieure des Arts Décoratifs.
Past Exhibition / Event
Keyword:

Narrative
Digital encoding enabled nonlinear editing and random access of text, image, and sound, and created new possibilities for expression opened, liberated from the restrictions of linear media with its beginnings and endings. The method, or the search for the method, to structure new non-linear narratives, via the intervention of the computer program or active viewer, is one characteristic of interactive art expressions. Related event Artists' Talk
Date: April 19 (Sat.), 2008, 2:00 pm -[Finished]| >Details |