"no flash photography allowed."
2008
semitra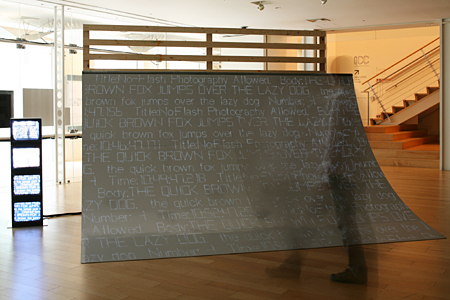 photo: KIOKU Keizo
The light particles moving in the projected image appear to blink irregularly, and yet hidden within this is a pattern of movement which, if photographed using a long exposure, will produce a message. These light patterns are a new font design for computing environments, decipherable within certain temporal ranges, with stylistic distortions. The messages shown are collected from various sources, including the internet. Everything, whether happy word or vulgar expression, is presented here as abstract light. Through the act of photography you can grasp as information what would otherwise likely be invisible, or incomprehensible.
Cooperation: upsetters architects(exhibition design), and RAMPSHOP (ramp construction)
Installation contributor: Sumitomo 3M Limited
semitra Profile
semitra is a net art unit born from the web creative team Semitransparent Design, who have won numerous advertising awards both in Japan and internationally. Semitra was founded in 2008.