ETO Kouichirou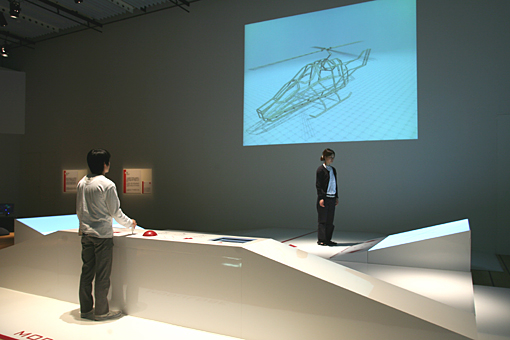 photo: KIOKU Keizo
"Modulobe" is a physical simulation system that enables users to easily create "moving 3D models" of virtual creatures through combining parts called modules. With this system, users can freely develop forms, like they do with blocks, add moving modules to the forms, and provide instruction on movement to the models. Additionally, as this virtual space simulates the actual laws of physics, users can reproduce realistic movements like those of living organisms.
This software work was created as an open "new canvas" to be used by the public over the Internet. One of the characteristics is that the models created by the users can be shared via the Internet. Users can freely post the models they have produced at a model-sharing website, and people who access the site can download the models, alter them, or re-post the altered models. "Modulobe," which consists of the basic elements needed to create models, functions as a "basis of imagination," helping create a wide variety of models. Here, the artist is in the position of creating a system and providing a "place for expression."
"Modulobe" Webpage

ETO Kouichirou has been active as a media artist while simultaneously engaged in research into network technologies. He has long employed networks in his works, as one of the artists who have adopted the Internet in art activities and creations ahead of others. He not only works solo, but also produces works as a member of groups and provides support to other artists.
Supported by: National Institute of Advanced Industrial Science and Technology (AIST), Yamaguchi Center for Arts and Media (YCAM)
Modulobe Project members: ETO Kouichirou, WATANABE Kuniaki, SAKURAI Minoru, TANIGUCHI Akihiko, KOMACHIYA Kei, HISAI Toru, OGURA Junko, MAEKAWA Takashi, KAWASAKI Yoshinori, YAMAGUCHI Suguru
A notable recent trend in artworks that use the Internet is the increase in works that focus on systems, which provide a platform (basic elements) only as an environment for creation, and allows viewers to use it freely. They are also intended to create opportunities for new communications, since they accumulate what the viewers have created and optimize them as a database.