"emergencies!" is a space that exhibits new work and projects by emerging and prospective artists. Experimental expressions, which lead to new possibilities for art and science, are presented three to four times per year. ICC aims to provide viewers with the experience of current media art in real time and the opportunity to encounter the source of each artist's ideas.
* "emergencies" is connotative of emergence, emergency, urgency, and agency.
007

006

005


"Materia ex machina"

Date : November 23 - March 9[Finished]



"Moon over Jungfrau"

Date : July 14 - September 2[Finished]


"First Person Space"

Date : September 15 - November 4[Finished]

004


"dangling media"

Date : April 19 - June 24
[Finished]






emergencies! 007
"Materia ex machina"
KOMACHIYA Kei
Date : November 23(Fri.) - March 9(Sun.) [Finished]

"I'm the painter with my pocket calculator. I am adding and subtracting. I'm controlling and painting. By pressing down a special key, it continues painting" 2007, LCD / Oil Painting Simulator,19inch
"which is the first painted spiral"2007, 3D color printer / Oil Painting Simulator, 185mm×250mm (Left)
"reproducing of the masterpiece lying down"2007, 3D color printer / Oil Painting Simulator, 185mm×250mm (Center)
"recursive relation" 2007, 3D color printer / Oil Painting Simulator, 185mm×250mm (Right)
Technology and science have been the defining factors of artistic expressions in the history of painting. The codes and conventions of perspective that were evolved during the Renaissance, Newton's optics, painting colors in aluminum tube developed in the mid-19th century, and Munsell color system are such fine examples. One can only image their surprise when people encountered paintings with colors, techniques, and themes that have never been seen.
The installation featured here is a new form of painting with techniques and medium discovered in a digital world. It can be categorized as a media art utilizing new media such as digital technology and 3D printer. Komachiya is involved in a research project "Creating 21st century art form based on digital media" hosted by CREST and JST and he continues to explore possibilities of expression through digital medium as a newly discovered form of painting material. Developing a new form of painting medium takes on the challenge of new expression. It widens the range of our visual experience and provides opportunities to consider the meanings of expression and viewing experience in the new media.

Born 1977, Komachiya teaches at Department of Inter Media Art at Tokyo National University of Fine Arts and Music. He is also a member of CREST, a research group at Graduate School of Film and New Media. He studied oil painting at college and worked on various electric media based projects. His works explore possibilities of electric media based painting expression. He conducts various research projects as well as art projects.
URL:
http://komachiya.net
Supported by:
Japan Science and Technology Agency (JST) Foundation of technology supporting the creation of digital media contents Core research of evolutional science and technology (CREST)"Creating a 21st Century Art form Based on Digital Media"
URL:
http://mxa21.jp
Oil Painting Simulator Development team(Tokyo Institute of Technology & Tokyo National University of Fine Arts and Music): Suguru Saito, Yuta Okabe, Jun Kubota, Tetsuo Shima, Hideki Yamada, Youngha Chang,Yuka Ito, Keisuke Nonaka, Kei Komachiya, Takahiro Miura
DICO Co., Ltd. URL:
http://www.di-co.jp
Related Event
Artist talk + Demonstration of "Oil Painting Simulator"
Date: December 2(Sun.) 2:00pm-4:00pm
Venue: ICC 4F special event space
| >Details |
emergencies! 006
"Moon over Jungfrau"
SUZUKI Elico
Date : September 15 (Sat.) - November 4 (Sun.) [Finished]

"The Sigh-lit Town" (top) 2006 photo: SUGANUMA Kiyoshi
"Vogler" (left) 2005 photo: UEDA Kenji
"My Pianist Walked out on Me" (right) 2007 photo: TAKAWO Shunsuke
A city gently aglow at a sigh, a twinkling star-lit sky of a mobile, responding to sound, a puppet theater operated from a toy piano.
SUZUKI Elico, known to the music world as Suzueli, is an artist who creates interactive works using sound, light, video images, and music, inspired by automata and the world of children's stories.
Lights that glow upon a sigh, in a town composed of small objects such as miniature houses and bridges. A mobile that twinkles in response to the sound of handbells.
A toy piano revealing new delights: when you, following the video guidance, press the keyboard, a chord automatically sounds; the phrase you play is automatically repeated to create music; or the keyboard becomes a game controller.
These three works utilize music, drawing, and other media to create worlds reminiscent of children's tales or entrancing miniature gardens. They bring back sights that can be experienced only when you take your eyes off the road, sensations often forgotten.

After graduating from Musashino Art University, SUZUKI engaged in video game development and served as editor of a video game magazine. In 2007, she graduated from the IAMAS DSP course. In her other career, as a musician, she released an album on TAKEMURA Nobukazu's childisc label in 1998. In addition to from performing as a supporting musician with TAKEMURA, she is engaged in solo work as well as performing as part of a music unit. Suzuki also produces interactive works on the topic of narratives that cannot be expressed in words.
Produced with cooperation by IAMAS and the Kinoshita Lab.
emergencies! 005
"First Person Space"
KAKUTA Tetsuya
Date : July 14(Sat.) - September 2(Sun.) [Finished.]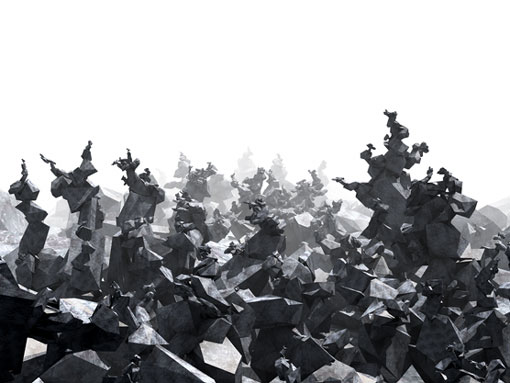 Once you put on the headset, you can enter the imaginary space and explore it by simply turning your head 360 degrees. The space expands into different areas and you can move forward into another virtual space with different theme by directing your eye line. "First Person Space" is virtual space model that converge and diverge by the way the participant observes the space.
With the slightest changes in light within the image, human eye can detect the space that physically doesn't exist. Many attempts have been made to utilize this human instinct in engineering and construction. "First Person Space" explores the limitation of virtual space design. In a gravity free virtual space, the speed of the movement and the sensation accompanied by it are the significant elements in designing the space and they are incorporated with techniques VJ uses in a club culture.
Tetsuya Kakuta also constructed a story within the piece about the fantasy world of inorganic nature controlled by the inhuman world order. Nano-machine, a inorganic life form of self similarity structure created by recursive function, grows up to change the world. For this exhibition, music with the theme of self similarity structure was newly composed to enhance the piece.

Born 1979, Kakuta graduated from Department of Architecture and Architectural Engineering at Kyoto University and is now studying for Ph.D. at Graduate School of Interdisciplinary Information Studies at the University of Tokyo. He is studying basics of Mixed Reality while actively pursuing a career as VJ exploring the relationships between the visual space and speed. He is known for his passion for technological advancement as a researcher and his works often criticize the technology injecting with a dose of humor.
Music Composed by Yasuno Miyauchi
emergencies! 004
"dangling media"
TANIGUCHI Akihiko
Date : April 19(Thu.) - June 24(Sun.) [Finished.]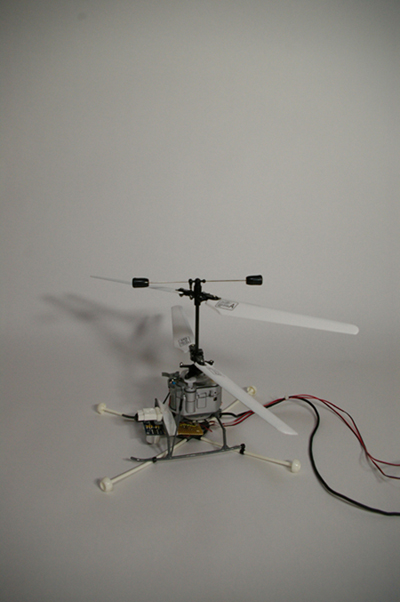 "The HelicopterBand" 2006-
A live performance in which the band members operate radio-controlled helicopters to control frequencies; "music score" composition and performance that manipulate the materiality of music sheets; and self-portraits taken with digital cameras modified by circuit bending. This exhibition introduces these three latest projects of TANIGUCHI Akihiko, who has launched wide-ranging activities based on the concept of "dangling."
"Dangling" is the word TANIGUCHI uses to express the contradictory status, e.g. the relationship between "ground and figure" in the arts, or the existence of interfaces that intermediate in the relationship between two terms that are often regarded as opposing, such as "plan and practice,""material and information," or "inside and outside." TANIGUCHI focuses on the indefinable, ambiguous conditions that suddenly emerge between two opposing terms-he senses that there is a "materiality of unseen medium," and thus confronts it with detached humor and sincerity. In fact, TANIGUCHI himself, who continues to explore "dangling media," may himself be the existence of a dangling medium.

TANIGUCHI was born in 1983. He is in the second year of the Design Course of the Graduate Program at Tama Art University(the Sound&Media Art Lab, Art Science Faculty). He has produced artworks by using programming and self-made interfaces. In recent years, he has launched various experimental projects, as an independent artist as well as a member of groups, based on the concept of "dangling." He has presented most of his art works in live performances that incorporate them.