---
Back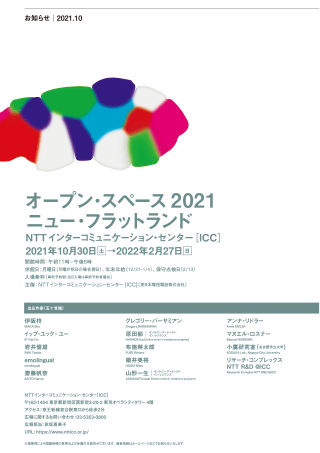 "Open Space 2021: New Flatland"
exhibiting works
Date: October 30, 2021–February 27, 2022
Venue: NTT InterCommunication Center [ICC] Gallery B, et.al.


Exhibition Information
Date: October 30, 2021–February 27, 2022
Real-space Venues: NTT InterCommunication Center [ICC] Gallery B, et.al.
Hours: 11:00am–6:00pm
Closed: Mondays (If Monday is a holiday, then Tuesday), The year-end and New Year Holidays (December 27 to January 4), Maintenance day (February 13)
Admission Free (Reservation is required)
Online Exhibition Venue: https://hyper.ntticc.or.jp/
Fee: Free for experience
Organizer: NTT InterCommunication Center [ICC] (Nippon Telegraph and Telephone East Corporation)
Address: Tokyo Opera City Tower 4F, 3-20-2 Nishishinjuku, Shinjuku-ku, Tokyo, 163-1404 Japan
Access: 2 minutes walk from Hatsudai Station East Exit on the Keio New Line
Inquiries: Toll-free Telephone 0120-144199 (Domestic only)
URL: https://www.ntticc.or.jp/
* Opening hours and holidays are subject to change. Please visit the ICC website for up-to-date information.
A space that combines ICC's diverse functions, Open Space integrates galleries, a mini theater, and the video archive "HIVE." Since its launch in 2006, the exhibition has been held as an admission-free event with changing contents each year. Based on the mission of ICC, it aims to function as an open platform where possibilities of communication culture and art created with the help of advanced technologies can be presented to a large number of people.
Exhibition Outline
"Open Space" is a series of exhibitions designed to introduce works of media art and other forms of artistic expression born out of today's media environments, to a broad audience. On display are leading works from the realm of media art; artworks incorporating cutting-edge technologies and/or expressing critical standpoints; works by promising young artists; and in addition, projects that are currently in progress at various research institutions. Accompanied by explanatory notes that help understand the respective pieces, exhibits are not only presented to view and enjoy, but the series at large aims to encourage visitors to think about backgrounds and contexts such as today's diversified forms of media and communication, technology-driven contemporary society, future prospects, and in addition, new sensibilities and aesthetics.
Titled "New Flatland," this year's edition focuses on artistic approaches in a technological environment in which, as a result of the integration of the real world and the world of information in the so-called "post-Internet age," the originally contrasting dimensions of reality and virtuality have been leveled out and connected.
Also on the schedule during the exhibition period are a number of related programs including talk sessions, lectures and symposia with artists and experts, as well as guided tours around the exhibits with explanations by the curatorial staff. In addition, various related events with international guests are planned to be held in cooperation between NTT laboratories and other cultural institutions.
---
Curators: HATANAKA Minoru, YUBISUI Yasuko
Co-Curation: TANIGUCHI Akihiko
---
Exhibiting Artists and Works
ISAKA Shu "Sprites" 2021
IP Yuk-Yiu "To Call a Horse a Deer" 2018–
IWAI Toshio "Marshmallow Monitor" 2002
emolingual "emolingual keyboard" 2019
SAITO Hanna "Non-Retina Kinematograph" 2017–
Gregory BARSAMIAN "Juggler" 1997 (ICC Collection)
HARADA Iku (Online artist-in-residence program)
FUSE Rintaro "When to Kiss Names" 2021
HOSOI Miyu "Lenna" 2019
YAMAGATA Issei (Online artist-in-residence program)
Anna RIDLER "Mosaic Virus" 2019
Manuel ROSSNER, new work
---
KODAKA Lab., Nagoya City University
Research Complex NTT R&D @ICC
---
emergencies!—introducing emerging and prospective artists
emergencies! 040 UMEZAWA Hideki + SATO Koichi
Date: October 30–December 19, 2021
emergencies! 041 YONEZAWA Shu
Date: January 15–February 27, 2022 (tentative)
---
HIVE
HIVE is the video archive of ICC. On HIVE terminals in ICC's premise, one can access to the digitalized video archive such as ICC video art collection, interviews with various artists, and wide-ranging activities of ICC since its opening in 1997 - exhibitions, symposia, artist talks, live events and workshops. Additionally, some of the above video archive are also available in the web version of HIVE (https://hive.ntticc.or.jp/) that launched in June 2006.
* The contents that have been released under the Creative Commons license on the web version of HIVE will be released only for streaming for the time being from April 1, 2021.
Request for visitors
The countermeasures against COVID-19
The following will not be permitted to enter ICC.
People with a fever of 37.5℃ (99.5℉) or above. (Visitors will have their temperature taken upon entry with a thermal camera and non-contact thermometer.)
People who have traveled within the past two weeks to a region or country with a high infection rate.
People with symptoms such as fever, sore throat, runny nose, persistent fatigue, etc.
People not wearing a face covering.
---
* Please visit the ICC website for up-to-date information.
Inquiry
NTT InterCommunication Center [ICC]
AKASAKA Emiko
TEL: 03-5353-0800 FAX: 03-5353-0900
URL: https://www.ntticc.or.jp/