---
Back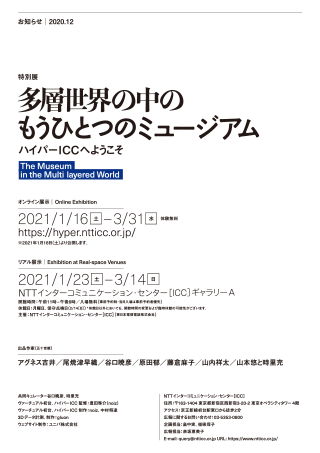 Special Exhibition
"The Museum in the Multi-layered World"
Online Exhibition
Date: January 16–March 31, 2021
Venue: https://hyper.ntticc.or.jp/
* Available from January 16, 2021
Fee: Free for experience
Organizer: NTT InterCommunication Center [ICC] (Nippon Telegraph and Telephone East Corporation)
Exhibition at Real-space Venues
Date: January 23–March 14, 2021
Venue: NTT InterCommunication Center [ICC] Gallery A
Hours: 11:00am–6:00pm
Closed: Mondays, Maintenance day (February 14)
Admission Free (Reservation is required)
Organizer: NTT InterCommunication Center [ICC] (Nippon Telegraph and Telephone East Corporation)
---
NTT InterCommunication Center [ICC]
Address: Tokyo Opera City Tower 4F, 3-20-2 Nishishinjuku, Shinjuku-ku, Tokyo, 163-1404 Japan
Access: 2 minutes walk from Hatsudai Station East Exit on the Keio New Line
Inquiries: Toll-free Telephone 0120-144199 (Domestic only)
URL: https://www.ntticc.or.jp/

* Opening hours and holidays are subject to change. Please visit the ICC website for up-to-date information.
---
Participating Artists
Aguyoshi
OYAIZU Saori
TANIGUCHI Akihiko
HARADA Iku
FUJIKURA Asako
YAMAUCHI Shota
YAMAMOTO Yuu and TOKISATO Mitsuru
---
Co-Curation: TANIGUCHI Akihiko, TOKISATO Mitsuru
Supervisor for 'Virtual Hatsudai' and 'Hyper ICC': TOYODA Keisuke (noiz)
Production of 'Virtual Hatsudai' and 'Hyper ICC': noiz, NAKAMURA Masatatsu
3D data measurement and Production: gluon
Website Production: UNIBA INC.
---
Another ICC in the virtual space that exists in the layer between the real world and cyber space.
In recent years, we are hearing about concepts such as "mirror world," "digital twins," and "common ground" in various situations. These terms signify the fact that, against a backdrop of increasingly fast telecommunications and computer processing, a digital information space that corresponds to the real world and that can be used for high-precision simulation is starting to become a reality.
Moreover, 2020's global COVID-19 pandemic has placed significant constraints on physical movement. As a result, the digital information space is attracting renewed attention.
The pandemic prompted many museums to cancel or postpone exhibitions. This led to initiatives aimed at showing online those exhibitions that have been canceled or that had opened but have been unable to welcome visitors. Artists themselves have also tried different ways of exhibiting their work online. Having experienced this kind of social change, perhaps we now need to envisage new models for exhibitions that are completely different from those that have come before.
ICC will now explore visions that suggest new concepts for exhibitions, using media art methods that have employed media technology to publish works on networks until now, and the potential for such visions.
---
[Virtual World: From Virtual Hatsudai to Hyper ICC]
* Offered as an app for PC.
Comprised of laser-scanned point cloud of sections of the Tokyo Opera City district, enabling visitors to move around freely inside Virtual Hatsudai.
HYPER ICC is a kind of "Information Building" standing inside Virtual Hatsudai. The cubes that make up the building mainly express activities (exhibitions and events) that ICC has conducted in the past. The shape of the building changes dynamically when the user selects the timing and type of event they want to view.
While based on spaces that are a direct reflection of actual ICC interior spaces, a laser-scanned point cloud will be used to present the works in ways that are free of the physical constraints of the real world, such as having multiples of the same exhibition room exist at once.
---
[Real-world Venues]
Exhibitions will also be held in the real world. The aim is for the real-world exhibitions and the exhibitions in the online venues to complement each other.
Connecting real-world and virtual venues
An information space will be created that connects Gallery A of the virtual venue in Hyper ICC with Gallery A in the real-world venue. Artworks that can be accessed and experienced online will appear in the real-world exhibition space. Elements that are not visible in the actual exhibit are added with AR, and information can be sent online from the real world. This multi-layered exhibition style, in which artworks and data can be output in various forms, differs from the concept of virtual exhibitions as being supplementary to the real world.
Users can actually output and assemble data themselves, and performers can appear in the exhibition venues. These methods will create exhibitions in which the real and the virtual co-exist, where the real and the virtual can be linked and information flows freely between them.
Multi-layered experience
Devices: Terminals with a web browser installed (PC, smartphone, tablet, etc.)
Website that serves as a portal to Virtual Hatsudai and Hyper ICC Functioning as an archive of exhibition contents, the website enables users to browse the contents and experience them in a tour-like style, using the apps described below.
Device: PC
Users can experience freedom of manipulation to the highest degree. This includes moving freely around Virtual Hatsudai and changing the external appearance of Hyper ICC.
With an AR app installed on their smartphone or tablet, users can add to the experience of the exhibits in the real space by holding their smartphone or tablet over them. Users can view a multilayered world of the real world and cyber space.
Papercraft and 3D print data
Papercraft and artworks in 3D-print form will also be published as a portable appreciation experience that can be enjoyed anywhere. Users can download the data for artworks, such as papercraft created by artists, from the website and print it to assemble and complete themselves. This experience, which people of all ages, from children to adults can enjoy, will allow users to have fun assembling these artworks and displaying them easily at home. There also plans for artists to provide workshops and performances using papercraft.
By taking data stored in the virtual information layer and outputting it as physical objects in the real-world physical layer, we will attempt to handle data and physical materials in the same way. Workshops are planned that will enable users to experience this multi-layered world, such as actually drawing a picture of a virtual digital scene and converting it to data for display in the virtual exhibition venue.
Gallery Tours guide visitors through the virtual venue and craftwork sessions that connect the virtual and real spaces are also planned.
---
* Please visit the ICC website for up-to-date information.
Inquiry
NTT InterCommunication Center [ICC]

Curators: HATANAKA Minoru, YUBISUI Yasuko
Press Contact Details: AKASAKA Emiko

TEL: 03-5353-0800 FAX: 03-5353-0900
URL: https://www.ntticc.or.jp/