"emergencies!" is a space that exhibits new work and projects by emerging and prospective artists. Experimental expressions, which lead to new possibilities for art and science, are presented three to four times per year. ICC aims to provide viewers with the experience of current media art in real time and the opportunity to encounter the source of each artist's ideas.
* "emergencies" is connotative of emergence, emergency, urgency, and agency.
001
"KODAMA- mischievous echoes"

Date : Jun 6 - Sep 9 [Finished]

002
"VP3L"



Date : Sep 15 - Nov 26 [Finished]

003
"moids"



Date : Dec 15 - Mar 11 [Finished]
emergencies! 003
"moids"
2006
SAITA Kazuki+MIHARA Soichiro+MUGIBAYASHI Hiroko
Date : December 15 (Fri.) - March 11 (Sun.) [Finished]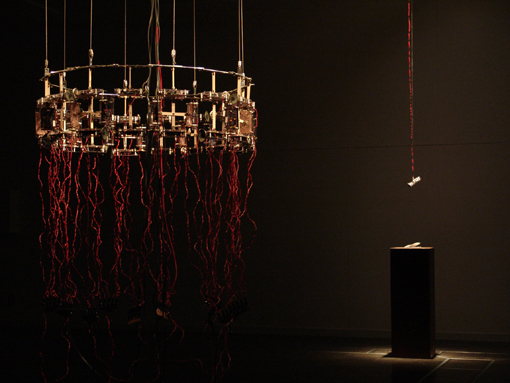 The "moids" model consists of 48 electroacoustic devices that generate sound autonomously, in accordance with certain rules. These devices, containing built-in microphones and speakers, react in response to sounds made by the audience, and by the whole environment. In this way, they create a dynamic acoustic environment in an autonomous, decentralized, and coordinated fashion. Like a chorus of singing crickets or frogs, a harmonious concert can be achieved, with each device working independently. "moids" is an non-deterministic model that creates sound instantaneously in reaction to accidental changes in the environment.

SAITA Kazuki; MIHARA Soichiro; MUGIBAYASHI Hiroko
The three began collaborating on this project in 2004 after hearing a lecture given by the late Dr. Moog.
They have since been active in the art field, exploring new expressions in creating electronic/electric sound from an organic, decentralized angle. While working on this project, they are also independently engaged in developing music instruments, doing performances, or running a company as president. This group is affiliated with the Kinoshita Institute.
emergencies! 002
"VP3L"
2006
HIGA Satoru
Date : September 15 (Fri.) - November26 (Sun.) [Finished]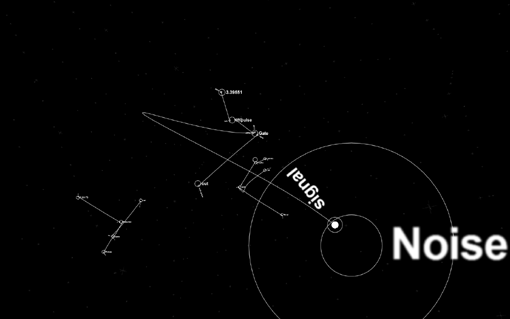 "VP3L" is a real-time sound programming language based on the concept of space. It generates various sounds depending on the positions and the links of the basic programming elements, i.e., objects located in computer-simulated 3D space.
Additionally, as VP3L connects the space in the program and the 3D audio environment, the programming space becomes the sound space itself. It enables users to move freely within the programming space (= the sound space), and manipulate the sounds. In the installation version of "VP3L" developed for this exhibition, diverse sound programming samples prepared in advance are used as a base, and the simple interface allows participants to change the sound as they wish by moving inside the programming space or changing the positions of the objects.

HIGA Satoru creates and studies sound performances and software art that use originally developed programs and devices. He did a live performance with VP3L at NIME (New Interface for Musical Expression), held in Paris in June 2006.
Born in 1983, he is a first year master's student at Tama Art University, majoring in design in the Sound & Media Art Lab.
http://www.lalalila.org/
Supported by: Tama Art University, Department of Information Design, Information Art Course
emergencies! 001
"KODAMA- mischievous echoes"
2005
YAMAKAWA K. Hisako
Date : June 6(Tue.) - September 9(Sat.) [Finished]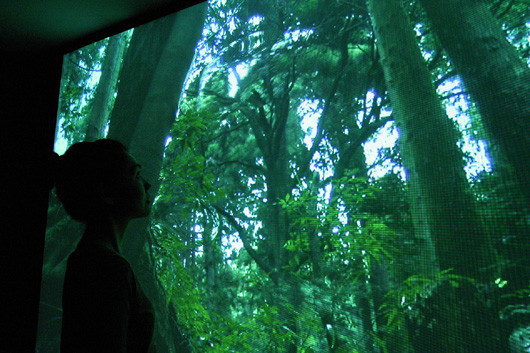 "KODAMA" are the tree spirits that live in the forest. They are invisible to human eyes but they quietly listen to what the visitors are talking about. When there is no sign of human existence, they start to play with the voices trapped in bubbles of air. Next, visitors hear the echo (also pronounced
kodama
in Japanese) of the voices in the forest even though there is no one there. The voice stops as soon as you get closer, however, and the forest returns to its usual silence. This artwork is a system that records human voices via microphones, embodies KODAMA by processing a video image and sound in the computer, and hides it as soon as the sensor detects the next visitor is approaching.
Until the early 20th century, the big forests had long been regarded as an uncharted realm where spirits or demons lived, and they inspired numerous folklore genres around the world. KODAMA, as an echo, is a natural system that imitates and converts human voices into different sounds while simultaneously attracting people - just like the mischievous spirits that react to human behavior. This artwork, KODAMA, hires an interactive system that involves visitors by using sensors, computers, and other technologies to present a wonderful world of playful relationships between the forest and the people that enter it. The artist has been interested in both words vocalized by human beings and voices when they talk. Words are invisible and disappear as soon as they are spoken. Hisako's efforts to create works that materialize this fragility led to this piece, "KODAMA", where the voices and breath that people leave in the forest float as transparent air bubbles.

YAMAKAWA K. Hisako was born in Gifu Prefecture in 1977, and graduated from Kyoto City University of Arts in 2002, IAMAS (Institute of Advanced Media Arts and Sciences), Gifu, in 2005. Currently visiting researcher under Professors Christa SOMMERER and Laurent MIGNONNEAU at the University of Art and Industrial Design, Linz (Austria). "KODAMA" has been exhibited abroad, including in Singapore, Germany, and the US.
Supported by: TAKEYA Yasuhiko (programming), HAGIWARA Kenichi (photography), MIHARA Soichiro, SUZUKI Yoshihisa, and IAMAS (devices)