---
Back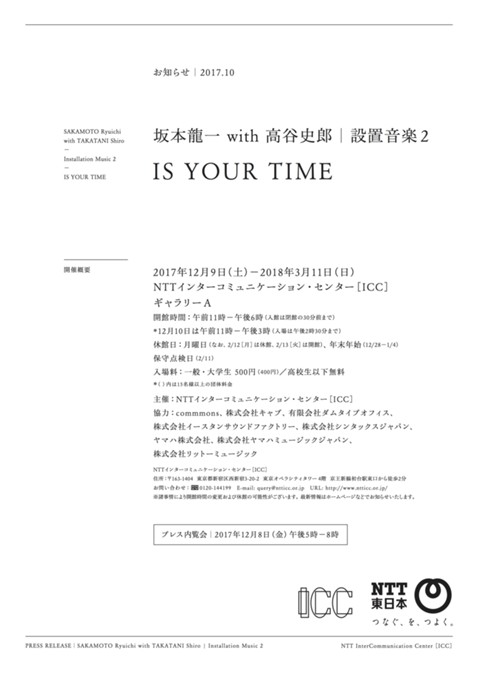 SAKAMOTO Ryuichi with TAKATANI Shiro | Installation Music 2 
IS YOUR TIME
Date: December 9, 2017–March 11, 2018
Venue: NTT InterCommunication Center [ICC] Gallery A



Exhibition Information
Date: December 9, 2017–March 11, 2018
Venue: NTT InterCommunication Center [ICC] Gallery A
Hours: 11:00am–6:00pm
* December 10: 11:00am–3:00pm
(Admission until 30 minutes before closing)
Closed: Mondays (If Monday is a holiday, then Tuesday except February 13, 2018), Maintenance day (February 11), The year-end and New Year Holidays (December 28 to January 4), February 12, 2018
Admission Fee: Adults / University students 500 (400) Yen, Admission free for High school students and younger
* Rates shown in parentheses are for groups of more than 14 persons.
Organizer: NTT InterCommunication Center [ICC]
Cooperation: commmons, KAB Inc., Dumb Type Office Ltd., EASTERN SOUND FACTORY Co., Ltd., Synthax Japan Inc., Yamaha Corporation, Yamaha Music Japan Co., Ltd., Rittor Music, Inc., an Impress Group company.
NTT InterCommunication Center [ICC]
Address: Tokyo Opera City Tower 4F, 3-20-2 Nishishinjuku, Shinjuku-ku, Tokyo, 163-1404 Japan
Access: 2 minutes walk from Hatsudai Station East Exit on the Keio New Line
Inquiries: Toll-free Telephone 0120-144199 (Domestic only)
URL: http://www.ntticc.or.jp/
Exhibition Outline
Creating and exhibiting installation works at art exhibitions and festivals in recent years, SAKAMOTO Ryuichi is increasingly showcasing his work in settings quite different from the format of his usual musical presentations. Considering that, in addition to his musical endeavors, he actively engages also in projects with a focus on social issues, the scope of SAKAMOTO's work at large has expanded toward general contemplation on aspects of music, society, nature, and primordial forms of life.
Released in 2017 as SAKAMOTO's first original album in eight years, "async" marked for the artist not only a venture onto new territory, but the music itself was part of an unprecedented, new kind of listening experience. After its release on CD and vinyl record, "async" was presented in the format of "installation music" set up in an exhibition space, combining 5.1 channel audio and imagery created by three collaborating artists.
As the title of this exhibition suggests, it is the second installment in the "Installation Music" series following "Ryuichi Sakamoto | async" at WATARI-UM, The Watari Museum of Contemporary Art. "IS YOUR TIME," the work on display this time, is a new installation created for this occasion by SAKAMOTO and TAKATANI Shiro, a member of the artist group Dumb Type and internationally operating solo artist. After encountering a piano in a high school in Natori (Miyagi Prefecture) that was devastated by the tsunami following the Great East Japan Earthquake in 2011, SAKAMOTO sensed that the forces of nature have retransformed this representative modern musical instrument into a mere object, and from there attempts to retrieve the music by creating occasions for sensing music also in other ways than perceiving physical sounds.
Exhibiting Artists
SAKAMOTO Ryuichi
Born 1952 in Tokyo.
Made his debut as a solo artist with "Thousand Knives" in 1978, and joined the Yellow Magic Orchestra (YMO) in the same year. He later moved his bases overseas but remained active in various fields centering around music even after the YMO had "spread out" (as the members put it, avoiding the expression "split up"). SAKAMOTO's score for the movie "Merry Christmas, Mr. Lawrence" won a BAFTA Award for Best Film Music, and his music for the movie "The Last Emperor" won an Academy Award for Best Original Score, and a Grammy Award for Best Album of Original Instrumental Background Score Written for a Motion Picture or Television. Numerous other movie soundtracks consolidated his international reputation also as a composer. Continuously pursuing innovation in sound, he has been creating a number of installation works such as "LIFE - fluid, invisible, inaudible ..." made in 2007 with TAKATANI Shiro on commission by the Yamaguchi Center for Arts and Media [YCAM]. Highly concerned also about social issues, he has been involved in the forest conservation/reforestation project "more trees," the charity event "NO NUKES" promoting non-nuclear power, the "School Music Revival" and "Tohoku Youth Orchestra" projects in support of the areas affected by the Great East Japan Earthquake, and various other activities. In 2014 he was invited to function as guest director at the Sapporo International Art Festival (SIAF). Following scores for the movies "Nagasaki: Memories of My Son" and "The Revenant" in 2015, in 2017 SAKAMOTO released his first original album in eight years, "async," which was also presented in the form of the "async" installation at WATARI-UM, The Watari Museum of Contemporary Art.
TAKATANI Shiro
Born 1963.
Joined the artist group "Dumb Type" in 1984. Has been involved in the creation of performance and installation works utilizing various media, which have been shown in performances and exhibitions at theaters, museums and art centers around the world. Concurrently with his work with Dumb Type, since 1998 he has been operating also as a solo artist. Stage productions include "La Chambre Claire" (premiered at Theater der Welt 2008, Germany), "CHROMA" (premiered in 2012 at Biwako Hall Center for the Performing Arts, Shiga), and "ST/LL" (premiered in 2015 at Le Volcan – Scène Nationale du Havre, France). Has been involved in performances at the Festival de Marseille and at the National Theater and Concert Hall, National Theater (Taiwan); exhibitions at the Yamaguchi Center for Arts and Media [YCAM], ZKM (Germany), Cité des sciences et de l'industrie Paris, and Sharjah Biennial (UAE); and collaborations with such artists as NAKAYA Fujiko, NOMURA Mansai and RAKU Kichizaemon XV. His latest performance "ST/LL" featuring music by SAKAMOTO Ryuichi is scheduled to be staged at the New National Theatre, Tokyo, on February 24 and 25, 2018.
Related Event
Artists' Talk SAKAMOTO Ryuichi, TAKATANI Shiro
December 9, 2017, 3:00pm–
Admission free
Venue: ICC 4F special stage
Concert
December 10, 2017, 7:00pm–
Advanced ticket: 3,000 Yen / Doors: 3,500 Yen
Venue: ICC Gallery A
Theater Program
December 9, 2017–
Admission free
Venue: ICC Theater
Inquiry
NTT InterCommunication Center [ICC]
Curator: HATANAKA Minoru
Press Contact Details: AKASAKA Emiko
TEL: 03-5353-0800 FAX: 03-5353-0900
URL: http://www.ntticc.or.jp/