---
Back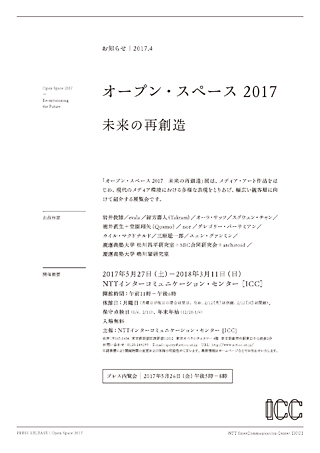 Open Space 2017: Re-envisioning the Future
Date:
May 27, 2017–March 11, 2018
Venue:
NTT InterCommunication Center [ICC]



Exhibition Information
Date: May 27, 2017–March 11, 2018
Venue: NTT InterCommunication Center [ICC]
Hours: 11:00am–6:00pm
Closed: Mondays (If Monday is a holiday, then Tuesday except February 13, 2018), Maintenance day (August 6 and February 11), The year-end and New Year Holidays (December 28 to January 4), February 12, 2018
Admission free
Organizer: NTT InterCommunication Center [ICC]
Address: Tokyo Opera City Tower 4F, 3-20-2 Nishishinjuku, Shinjuku-ku, Tokyo, 163-1404 Japan
Access: 2 minutes walk from Hatsudai Station East Exit on the Keio New Line
Inquiries: Toll-free Telephone 0120-144199 (Domestic only)
URL: http://www.ntticc.or.jp/
* Opening hours and holidays are subject to change. Please visit the ICC website for up-to-date information.
A space that combines ICC's diverse functions, Open Space integrates galleries, a mini theater, and the video archive "HIVE." Since its launch in 2006, the exhibition has been held as an admission-free event with changing contents each year. Based on the mission of ICC, it aims to function as an open platform where possibilities of communication culture and art created with the help of advanced technologies can be presented to a large number of people.
Exhibition Outline
"Open Space" is an exhibition introducing works of media art and other forms of artistic expression born out of today's media environments, to a broad audience. On display along with explanatory notes that help understanding the respective pieces are leading works from the realm of media art, artworks incorporating cutting-edge technologies, works with a critical standpoint, and in addition, projects that are currently in progress at various research institution. Next to presenting works to view and enjoy, the exhibition was conceived as an occasion for visitors to think about backgrounds and contexts such as today's diversified forms of media and communication, problems in contemporary society, future prospects, and in addition, new sensibilities and aesthetics.
In the year of the 20th anniversary of the opening of ICC, the 12th installment in the series, titled "Open Space 2017: Re-envisioning the Future" and themed around creating new future visions, looks back on the past two decades, while at once reflecting on what kind of future we might be able to propose for the decades to come.
Also on the schedule during the exhibition period are a number of related programs including talk sessions, lectures, symposia and workshops with artists and experts, as well as guided tours around the exhibits with explanations by the curatorial staff.
Exhibiting Artists and Works
Gregory BARSAMIAN "Juggler" 1997
Sougwen CHUNG "Drawing Operations Unit" 2015
evala [See by your ears]

"Our Muse" (new work)
"Otocyon megalotis" (2013-2014, created in collaboration with SUZUKI Akio)
IWAI Toshio "Marshmallow Scope" 2002
IWAI Toshio "Marshmallow Monitor" 2002
Kyle McDONALD "Exhausting a Crowd" 2015
MIHARA Soichiro "bell" 2013
nor, new work
OGATA Hisato "Oto-megane" 2013
Aura SATZ "Between the Bullet and the Hole" 2015, "Flickering Between the Bullet and the Hole" 2016
TOKUI Nao + DOZONO Shoya (Qosmo) "The Latent Future" (new work)
YUAN Goang-Ming "Smiling Rocking Horse" 2011
YUAN Goang-Ming "Landscape of Energy" 2014
---
Research & Development Corner
MATSUKAWA Shohei Laboratory and SBC Laboratory, Keio University + archiroid
NARUKAWA Hajime Laboratory, Keio University
---
emergencies!—introducing emerging and prospective artists
emergencies! 031 GUSHIKEN Yusuke "mikikikikimimi"
Date: May 27–August 13, 2017
emergencies! 032 KOBAYASHI Muku
Date: September 12–November 26, 2017
emergencies! 033 WADA Natsumi
Date: December 19, 2017–March 11, 2018
---
HIVE
HIVE is the video archive of ICC. On HIVE terminals in ICC's premise, one can access to the digitalized video archive such as ICC video art collection, interviews with various artists, and wide-ranging activities of ICC since its opening in 1997 - exhibitions, symposia, artist talks, live events and workshops. Additionally, some of the above video archive are also available in the web version of HIVE (http://hive.ntticc.or.jp/) that launched in June 2006. They are provided to the users under a Creative Commons Lisence, which allow users to make their own creative uses with the video materials for non-profits. By this initiative, we intend to disclose our resource in an open way.
Inquiry
NTT InterCommunication Center [ICC]
AKASAKA Emiko
TEL: 03-5353-0800 FAX: 03-5353-0900
URL: http://www.ntticc.or.jp/