Back
Open Salon Events by exhibiting artists of "Open Space 2014"
Performance & Artists' Talk Stephen CORNFORD
Sunday, June 22, 2014, 7:00pm–
Open Salon Events by exhibiting artists of "Open Space 2014"
Performance & Artists' Talk Stephen CORNFORD
Guest: dj sniff
Moderator: HATANAKA Minoru (ICC)
---
Date: Sunday, June 22, 2014, 7:00pm–
Venue: ICC 4F Special space
Capacity: 150 persons (first-come basis)
Admission free
With interpretation (Japanese-English)
Organizer: NTT InterCommunication Center [ICC]
Stephen CORNFORD
Born 1979 in London. Has been creating original devices that expose normally inaudible noises of machines, by modifying the inner structures and functions of such home electronics and audio equipment as tape recorders and CD players. In installations and experimental performances, CORNFORD continues to operate between art and music, exhibition and stage performance. He is currently a Research Fellow at the Sonic Art Research Unit of Oxford Brookes University.
---
Takuro MIZUTA LIPPIT/ dj sniff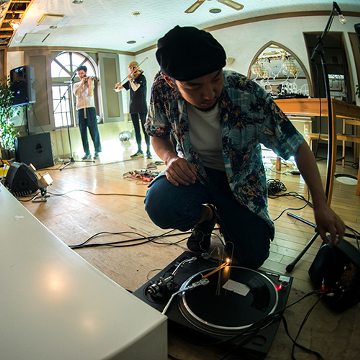 Musician, curator and producer in the field of experimental electronic arts and improvised music. Born in 1978. During his appointment as Artistic Director of STEIM (2007-12) in Amsterdam, he has curated and produced over 100 projects including large scale international festivals and award winning art works. His musical work builds upon a distinct practice that combines DJing, instrument design and free improvisation. He is now based in Hong Kong.
View Exhibitions & Events