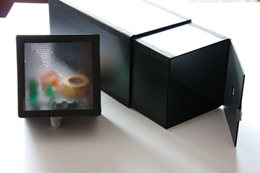 NARUKAWA Hajime "Parallel Camera"
"Geodesic Camera" 2011
What are the possibilities for photography which use neither camera nor lens? What options are there to step outside of Euclidean linear perspective, the vanishing point and angle of a picture plane? This work helps you explore such questions and see things differently than you would through a camera or telescope, using simple everyday objects, and without resorting to electrical technology.
NARUKAWA Hajime NARUKAWA Hajime began working at VMX Architects in 2001, moving to Sasaki Structural Consultants in 2003. In 2009 he established AuthaGraph Co., Ltd. Active in fields of art, design, and engineering, his primary focus is in developing ideas using solid geometry verification models, with a special focus on social applications. He presented his "AuthaGraph World Map," a rectangular world map which projects the three-dimensional surface of the globe into two-dimensions very accurately, for the first time in the "Open Space 2009, Mission G: sensing the earth" exhibition at ICC, Tokyo. In June 2011, the National Museum of Emerging Science and Innovation (Miraikan) showed "Geo-Cosmos," "Geo-Palette," and "Geo-Scope," on which he worked on the basic design and supervised construction. He teaches part-time at Kuwasawa Design School, and at Tokyo Zokei University. He is a member of the Japan Cartographer's Association.
http://www.authagraph.com
Past Exhibition / Event