'BioAesthetics Open Lab.'
2013
metaPhorest (Waseda University BioAesthetics Platform)
---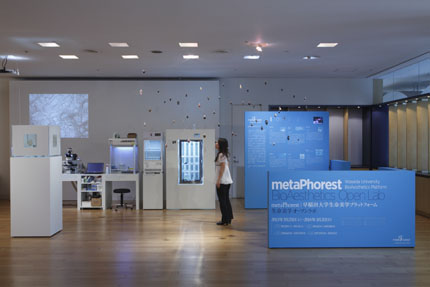 Installation shot: #01
photo: KIOKU Keizo
metaPhorest, a platform for experimentation, research and production in the realm of "life" themed art/aesthetics (bio art, bio media art, biological art, bioaesthetics) in reference to developments in bioscience and the theory of life,was installed in 2007 in a biological laboratory at the Center for Advanced Biomedical Sciences, Waseda University.
It provides opportunities for artists and designers with an interest in artistic expression focusing on aspects of life, to stay and work for relatively long periods of time at the scene of bioscientific research, while sharing experimental facilities and seminars with scientists. The main emphasis of their endeavors is on multilateral research and expression of the connection between arts and sciences revolving around life, along with the respective social, intellectual and cultural foundations, carried out through active exchange with artists and researchers in Japan and abroad.
This exhibition introduces in four consecutive parts the achievements of two artists each that currently or recently stayed and worked at metaPhorest. An open laboratory is planned to be set up during the exhibition period for visitors to observe the artists' production and experimentation.
*The title "metaPhorest" carries multiple connotations, such as "metaphor + forest," "meta-forest," and "super-metaphor."
---
#01
Date: May 25 – August 3, 2013 [Finished]
IWASAKI Hideo "Culturing <Paper>cut" 2013
IWASAKI Hideo + SAITO Hanna "CyanoBonsai Project" 2007–, reproduced in 2013
SAITO Hanna "ManMade Cocoons" 2012–
#02
Date: August 6 – October 14, 2013 [Finished]
ISHIBASHI Tomoya "Goldfish Liberation Movement" 2012–
ISHIBASHI Tomoya + YOSHIOKA Yuki "Revital HgS" 2013
Juan M. CASTRO "HELIOTROPIKA" 2011
#03
Date: October 16 – December 23, 2013 [Finished]
HORIE Toshiyuki "ZURE-MOKUGYO" 2010
HORIE Toshiyuki "Standing while being interposed" 2013
NAKAMURA Kyoko 'Development of multinaturalistic idea by Japanese painting - Its practice, transition and detour'
NAKAMURA Kyoko "Ring the Bear" 2012
#04
Date: December 25, 2013 – March 2, 2014 [Finished]
IWASAKI Hideo + Oron CATTS + Juan M. CASTRO "Biogenic Timestamp" project 2010-
BCL (TREMMEL Georg + FUKUHARA Shiho) + AKABANE Kyo (Generative Idea Flow) + KIMURA (TASKO inc.) + SATO Masaki (TASKO inc.) + YOSHIOKA Yuki "3rd Nature - Post-nuclear Landscape #01 Moss Matrix Printer [Work in Progress]" 2013
YOSHIOKA Yuki + SAITO Hanna "Time-poiesis | N1 Cyanobacteria" 2013
SAITO Hanna "Blue-blue green is green" 2013
BCL | Georg Tremmel, Shiho Fukuhara "Common Flowers / White Out [In Progress]"
---
related events
---
Artists' Talk
"SymbioticA × metaPhorest : Exploring Life at Open Space 2"
metaPhorest (Waseda University BioAesthetics Platform)
Date: February 22 (Sat.), 2014, 2:00pm– [Finished]
| >Details |
related events
---
Artists' Talk
"Exploring Life at Open Space"
metaPhorest (Waseda University BioAesthetics Platform)
Date: October 6 (Sun.), 2013, 2:00pm– [Finished]
| >Details |