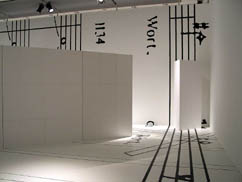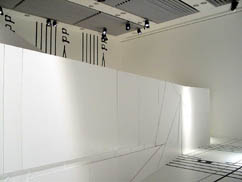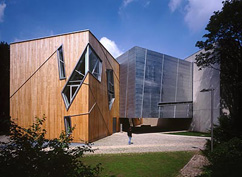 Photo: Bitter+Bredt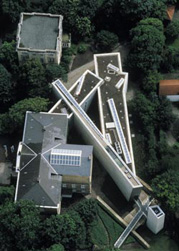 Photo: Bitter+Bredt




Museum Without Exit--Sch
nberg's Moses speaking the Word



In the exhibition, a model of the Felix Nussbaum Haus is surrounded by the score of the final portion of Act Two of "Moses and Aaron," the unfinished opera by Arnold Sch
nberg. This opera ends abruptly with a despairing Moses addressing the absence of the Word, saying "oh word, thou word."



A private museum constructed so as to link the two existing museums in the town of Osnabr

k, the Historical Museum and the Fork Art Museum. Felix Nussbaum was a Jewish painter who became a victim of the Nazis. The architecture of the museum is intended both to showcase his work and to narrate his life as an embodiment of the unfortunate but indomitable history of the Jewish people.




Text in quotation marks is taken from the catalogue
The Fifth Hiroshima Art Prize: Daniel Libeskind,
Hiroshima City Museum of Contemporary Art, 2002.


Felix Nussbaum Haus
www.osnabrueck-net.de/Kultur/Nussbaum/
Studio Daniel Libeskind
www.daniel-libeskind.com