Guest: UMEZU Gen (The Museum of Modern Art, Saitama / art studies)
Moderator: HATANAKA Minoru (ICC)
Date: Sunday, February 15, 2015, 3:00pm - [Finished]
Venue: ICC 4F special stage
Capacity: 150 persons (first-come basis)
Admission free

Live on the Internet
Event will be Broadcasted on RealPlayer and Ustream on the Internet.
Works
SHIMIZU Jio
"frequens" | >Details |
Profile
SHIMIZU Jio
Born 1966. Finished Graduate School at the Tokyo National University of Fine Arts and Music. He uses mainly oscillatory phenomena such as sound and light to create works that describe and redefine phenomena, their temporal and spatial transformations, and our perception of those. By highlighting aspects we cannot see or are not aware of when looking at things and occurrences things the normal way, SHIMIZU aims to refresh our consciousness toward occurrences, and create unique experiences with each of his works.
Past Exhibition / Event
UMEZU Gen
The Museum of Modern Art, Saitama / art studies.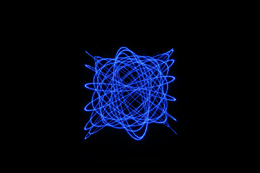 "frequens (dimension)" 2012-14
photo: KIOKU Keizo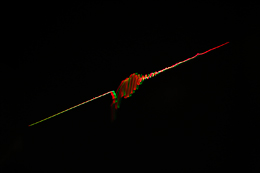 "frequens (linnerscope)" 2007-14
photo: KIOKU Keizo
SHIMIZU Jio

UMEZU Gen

HATANAKA Minoru (ICC)