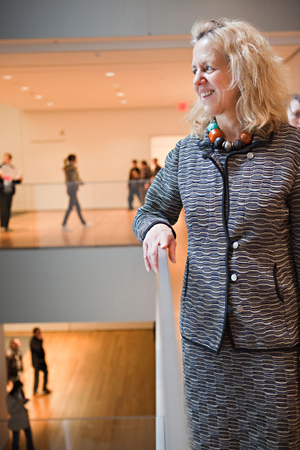 Photo: Henry Zernike
Moderator: HATANAKA Minoru (ICC)
Date: Friday, August 8, 2014, 7:00pm - [Finished]
Venue: ICC 4F special stage
Capacity: 200 persons (first-come basis)
Admission free
With interpretation (Japanese-English)
Organizer: NTT InterCommunication Center [ICC]

Live on the Internet
Event will be Broadcasted on RealPlayer and Ustream on the Internet.
Related Works
ABE Shuya "ABE Video Synthesizer" | >Details |
Profile

Barbara LONDON
---
Curator and Writer.
Barbara LONDON received a B.A. from Hiram College in 1968 and an M.A. from the Institute of Fine Art, NYU in 1972.
She founded the video exhibition and collection programs at The Museum of Modern Art, where she was curator between 1973 and 2013. The exhibitions she organized include one-person shows featuring early mavericks Nam June PAIK, Bill VIOLA, Steina VASULKA, Joan JONAS, KUBOTA Shigeko, Peter CAMPUS, Gary HILL, VALIE EXPORT, and Laurie ANDERSON. She was the first curator in the United States to showcase the work of Asian artists SONG Dong, FURUHASHI Teiji, FENG Mengbo, and YANG Fudong. She was the first to integrate the Internet as part of curatorial practice.
The projects where she put daily dispatches on-line include "Stir-fry" (1994); "Internyet" (1998); and "dot.jp" (http://www.moma.org/dotjp/) (1999). Her teaching includes NYU Department of Film, Graduate Computer Department, SVA, and Yale Graduate Department of Fine Art. Her writings have appeared in a range of catalogs and publications, including ArtForum, Yishu, Leonardo, Art Asia Pacific, Art in America, Modern Painter, and Image Forum. She organized exhibition "Soundings: A Contemporary Score" at MoMA in 2013.
Barbara LONDON

ABE Shuya

HATANAKA Minoru (ICC)