Guest: MA Jungyeon
Moderator: HATANAKA Minoru (ICC)
Date: Sunday, June 22, 2014, 2:00pm - [Finished]
Venue: ICC 4F special stage
Capacity: 150 persons (first-come basis)
Admission free
With interpretation (Japanese-English)

Live on the Internet
Event will be Broadcasted on RealPlayer and Ustream on the Internet.
Works
Jeffrey SHAW
"The Legible City" | >Details |
Profile
Jeffrey SHAW
Past Exhibition / Event
MA Jungyeon
Researcher in media art. PhD. Born in 1980, Seoul, Republic of Korea. She studied English literature, psychology, technology art, film and new media studies and holds a PhD from Tokyo University of the Arts. Her doctoral thesis "on the history of media art in Japan" is to be published in 2014.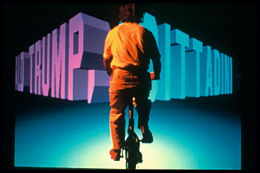 "The Legible City" 1988-91
ZKM Collection
copyright: Jeffrey SHAW
Jeffrey SHAW

MA Jungyeon

HATANAKA Minoru (ICC)