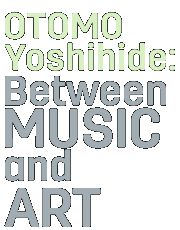 "quartets" 2008(commissioned by YCAM)
OTOMO Yoshihide + KIMURA Yuki + Benedict DREW + HIRAKAWA Norimichi + ISHIKAWA Ko + ICHIRAKU Yoshimitsu + Jim O'ROURKE + Kahimi Karie + Sachiko M + Axel DÖRNER + Martin BRANDLMAYR
Co-developed with YCAM InterLab

Silhouettes of musicians are projected onto each side of a white cube installed in the center of the exhibition space, while the music that these musicians play is audible from the inside of the cube. Both silhouettes and music are recordings that were made beforehand of eight musicians' individual performances. The temporal arrangement for each sequence is controlled by a computer program to create a continuous "ensemble" performance in which the individual performances interact and mix with each other.
At the same time, images showing details of objects made of wood, iron, liquids and other materials are projected onto screens on each of the exhibition space's four walls, right opposite from the sides of the cube. These images pulsate/flow to the music performed by the silhouettes on the cube.
As visitors cannot look at the projections on the four sides of the cube and the surrounding walls all at once, they can never view the entire piece, even though they can hear the ensemble of all musicians performing at the same time.
Direction / Sound composition: OTOMO Yoshihide
Art direction (cube screen): KIMURA Yuki
Video / Objects (outer screen): Benedict DREW
Algorithm design / Programming / System: HIRAKAWA Norimichi
Recording / Mixing: ITO Takayuki (YCAM)
Shooting: OWAKI Richi (YCAM)
Shooting assistant (cube screen): MURATA Soichiro
Technical support: HAMA Satoshi
Guitar / Turntable: OTOMO Yoshihide
Voice: Kahimi Karie
Synthesizer / Guitar: Jim O'ROURKE
Sho: ISHIKAWA Ko
Percussion: ICHIRAKU Yoshimitsu
Trumpet: Axel DÖRNER
Drums and Percussion: Martin BRANDLMAYR
Sinewaves: Sachiko M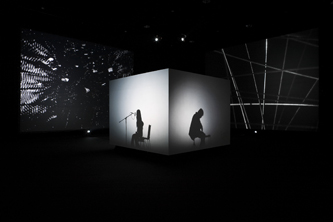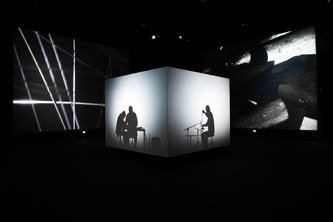 Photo courtesy: Yamaguchi Center for Arts and Media [YCAM]
---
Sound installation on the stairway up to Gallery A.
Sixteen speakers are placed on both sides of the stairs. OTOMO's pre-recorded guitar sounds are played back in a random fashion from each speaker, whereas the visitor can never hear all sounds together. The work is to be appreciated while passing by, stopping at some point, or walking up and down the stairway.
Programming / System: MATSUMOTO Akihiko
Cooperation: FOSTEX

On display are questionnaire responses from musicians, artists, critics, curators and other individuals working in the fields of music and art respectively, alongside essays related to "Between Music and Art."
contributors
ABE Kazunao, Christophe CHARLES, Richard CHARTIER, dj sniff / MIZUTA Takuro, FUJIMOTO Yukio, FUJITA Yosuke, HACO, HASUNUMA Shuta, Holly HERNDON, HIRAKAWA Norimichi, HORIO Kanta, ITO Atsuhiro, MIHARA Soichiro, MOHRI Yuko, NAKAJIMA Rie, Carsten NICOLAI, David NOVAK, ONDA Aki, OZAKI Tetsuya, RYU Hankil, Sachiko M, SAKAMOTO Ryuichi, SASAKI Atsushi, SUZUKI Akio, David TOOP, TSUNODA Toshiya, UMEDA Tetsuya, WADA Ei, YABUMAE Tomoko, YAGI Lyota, YAMAKAWA Fuyuki, YAMAMOTO Seiichi, YASUNO Taro, YONAGO Tadashi, GOGOTA Hisanori