"Tab. Glitch" 2013
"Facing to File Formats" 2013
"What happens when all keyframes are removed." 2013
ucnv
---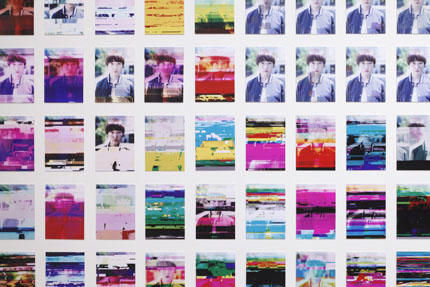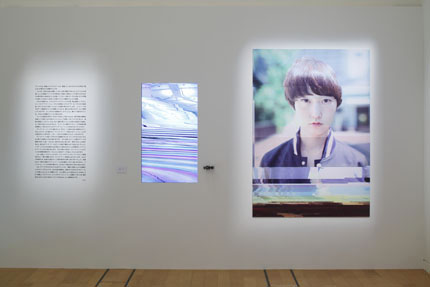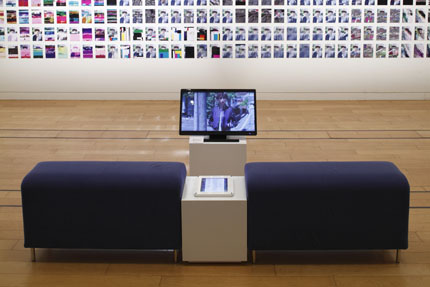 Top: Part of installation shot: "Tab. Glitch" 2013 (detail)
Middle: "Facing to File Formats" 2013 *in the middle of the picture
Bottom "What happens when all keyframes are removed." 2013
photo: KIOKU Keizo
Exhibited here are multiple different variations derived from one original photograph, ranging from renditions close to the original, to pictures manipulated to such an extent that the original is hardly recognizable at all. What happens in these photographs is the same effect that we sometimes encounter when watching images on a computer screen that aren't properly reproduced. While they are all based on the same photograph, variations of the same image, they are re-stored in different image data formats. Even though the same basic image is depicted each time, the variation of image data formats involves effects of data deficits that cause disparities in the displays.
Such unintentionally faulty displays of data that we have come to know as a typical phenomenon of digital technology are called glitches. Likewise, glitches are also being employed in digital music, where unpredictable jumps and noises are generated by using faulty CDs or applying improper variables for the sound processing.
The glitch can be considered as a new aesthetic value that was discovered as a by-product of new technologies, and that is today being incorporated as a creative element in various forms of artistic expression. Visitors to this exhibition can encounter the phenomenon of the glitch itself, and view their own portraits with added glitch effects.
"Tab. Glitch"
Model: bómi / Photo: GOTO Takehiro / Hair & makeup: NAKAGAWA Rieko / Cooperation: ISU Taeko
ucnv Profile
Develops programs to intentionally generate glitches, normally an unintended program error phenomenon caused by corrupted data during the playback of still or moving images, and present the results as visual expressions of glitches. The idea is to translate the unconscious operations of playback equipment into works of art by assuming what is supposed to be unpredictable. Glitches produced this way are incorporated into live performances and music clips. Is also active as a member of the Utah Kawasaki Band Aratame ucnv Band.
related events
---
Artists' Talk & Performance
ucnv
Date: February 16 (Sun.), 2014, 3:30pm– [Finished]
| >Details |
Channel ICC
---
Interview with exhibiting artists is available in Podcast "Channel ICC."
| >Details |