"Please Watch Your Time" 2009
"Footprint of Your Future" 2009
"Blinking ID Photos" 2011
SUZUKI Yasuhiro
---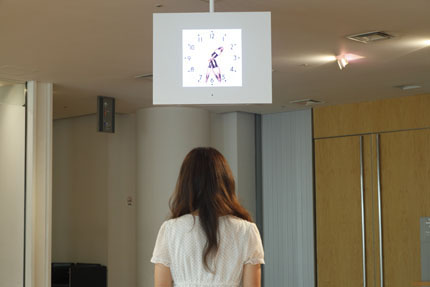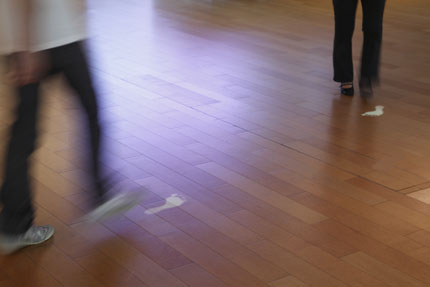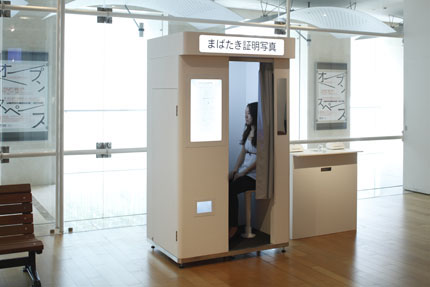 top: "Please Watch Your Time" 2009
middle: "Footprint of Your Future" 2009
bottom: "Blinking ID Photos" 2011
photo: KIOKU Keizo
When walking through the lobby of "Footprint of Your Future," footprints appear on the floor, alas not behind but one step ahead of the walking visitor. The work utilizes real-time image processing technology to recognize the direction and speed of a walking person, and accurately calculates his/her further path and displays the according footsteps based on high precision prediction technology. Visitors will feel as if their unconscious mind is being visualized, or as if being shown images of their unconscious future self.
"Please Watch Your Time" consists of a clock face without hands. As soon as a visitor stands in front of the clock, his/her own body appears on the face in the place of the hour, minute and second hands. The work utilizes the latest image processing technology to cut only the silhouette of a visitor facing the clock out of images filmed with a camera. The respective visitor's images on the clock are updated hourly for the hour hand, once every minute for the minute hand, and every second for the second hand. The clock that only functions when standing right in front of it reminds us of the existence of our "own private time."
Appearing like an ordinary ID photo booth, "Blinking ID Photos" utilizes an image recognition technology-based mechanism to release the camera's shutter in the moment the photographed person blinks. While we are normally careful not to blink when taking ID photos, this work directs our awareness to that short moment during which we close our eyes to produce what is arguably our most natural facial expression.
Realized in collaboration between the artist and technicians, each of these works is highly participatory while blending into the environments of public spaces.
"Please Watch Your Time" and "Footprint of Your Future" were realized as part of the Digital Public Art Project.
System in "Please Watch Your Time" and "Footprint of Your Future": MATSUMURA Naruaki, MATSUNAMI Tomoaki, Ovgu OZTURK, TOGASHI Masanori (Aizawa Yamasaki Lab., the University of Tokyo)
SUZUKI Yasuhiro Profile
Born 1979. Has been creating works with a universally narrative quality based on motifs of random discoveries in everyday life, reversing perspectives and concepts, or matching ideas as products of his creative ideas or flashes of inspiration from the beginning of his artistic career. In recent years, has been engaged in several large-scale artworks and projects in public spaces, including "Ship of the Zipper" and "Flipping through the Memory." In addition to his individual endeavors, he is broadly active also in collaborations with industry and university researchers.
Past Exhibition / Event
notice
---
Please experience "Blinking ID Photos" after you purchase a kit of 促300 for it.