"Lego-Sponge in Rectangular Parallelepiped of 2.73 Dimensions" 1998
"Device for Displaying the Space Coordinates and the 3-D Gobang" 1998-99
"'Art Patents' Book" 2010
NAKAZAWA Hideki
---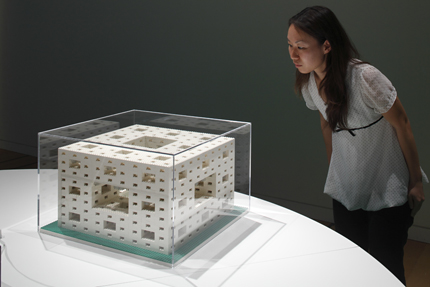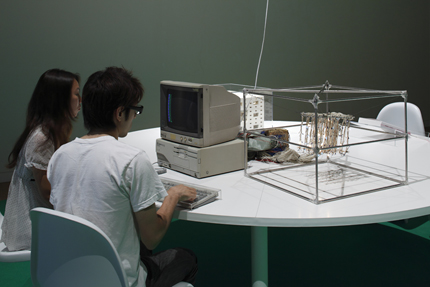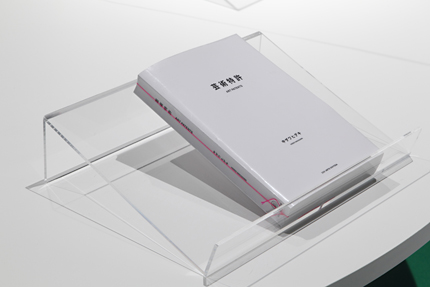 top: "Lego-Sponge in Rectangular Parallelepiped of 2.73 Dimensions" 1998
middle: "Device for Displaying the Space Coordinates and the 3-D Gobang" 1998-99
bottom: "'Art Patents' Book" 2010
photo: KIOKU Keizo
"Lego-Sponge in Rectangular Parallelepiped of 2.73 Dimensions" is a spongy cuboid Lego block composed in a fractal geometry style of self-similar hollow spaces. It has a large square hole in the center of each side, eight similarly shaped smaller holes around the large one, and again eight holes around each of these smaller holes. Nakazawa's own patented bitmap type "Device for Processing a 3-D Image" can be used for building block-like parts called "voxels," which has been applied in this work's physical structure.
"Device for Displaying the Space Coordinates and the 3-D Gobang" combines a display with a total of 125 coordinate values in five rows each on the vertical, horizontal and depth axes of a three-dimensional space, with the function of a three-dimensional Gobang game.
There are many artists today that utilize various computer software for the creation of their works. However up to a few years back, software used for the realization of artworks had been regarded merely as a production tool. Based on his idea that developing such software is actually the same as inventing paints and brushes for painting, and that this is just as important a part as the actual production of the artwork, Nakazawa collected vast amounts of materials in his "'Art Patents' Book."
NAKAZAWA Hideki Profile
Born 1963. After working as an ophthalmologist and as an illustrator, began to engage in artistic work in the form of acrylic paintings (1980s) and computer graphics (1990-96), creating humorous artworks with a pop feeling drawing on his versatile professional skills. In 1996, he produced "Digital Nendo," the world's first 3D Bitmap Software, before changing his style in 1997, when he started producing logic-based "Method Paintings" as a unique means for investigating the basics of conceptual art. In the "Serious Paintings" since 2006, NAKAZAWA reintroduced the colors he had banned from his "Method Paintings."
Past Exhibition / Event
Channel ICC
---
Interview with exhibiting artists is available in Podcast "Channel ICC."
| >Details |
related events
---
Artists' Talk
NAKAZAWA Hideki
Date: May 25 (Sat.), 2013, 3:30pm– [Finished]
| >Details |