emergencies! 020
"Desk Turned into Diorama"
2013
IKEUCHI Hiroto
Date: May 25 – September 29, 2013

[Finished]
---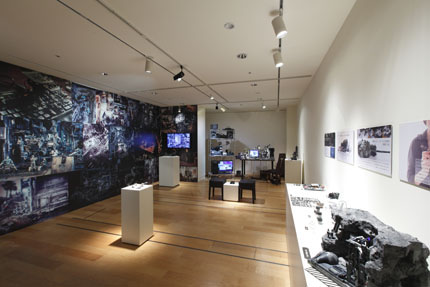 photo: KIOKU Keizo
Placed in the center of a "lair" like diorama is a display that is obviously quite different in scale. What looks like "a building in the diorama" turns out to be the body of a computer, and next to the diorama that occupies the entire desktop, the viewer surely notices also the rack with a printer and radio at the side.
In this work, an ordinary desktop functions as a stage for a diorama composed of computers and peripheral equipment, remodeled into building structures to reproduce the perspective of a diorama, alas without harming the devices' electronic circuits, wires and mechanisms, so that each of them still fulfills its original function.
The devices integrated into this work function as interfaces as per normal. The keyboard, for example, can be regarded as a piece of art in its own right, but it serves at once as an interface for controlling the web camera used for filming the diorama. This is why it seems to be working as an interactive device that blurs the sense of distance between the work and the viewer.
Programming cooperation: TORIIHARA Koji
Photography cooperation: OGIWARA Rakutaro
IKEUCHI Hiroto Profile
Born 1990, graduated from the Department of Interaction Design, Tama Art University in 2013. While studying Flash contents and design at university, spent most of his spare time building plastic models. Inspired by the idea to turn the interior of a well-familiar (to the artist) computer into a "lair" kind of space, his graduation work was a hybrid combination of a diorama and plastic models.
related events
---
Artists' Talk
IKEUCHI Hiroto
Date: September 29 (Sun.), 2013, 2:00pm– [Finished]
| >Details |
notice
---
IKEUCHI's "Desk Turned into Diolama" will be shown at the exhibition "TOTAL RECALL - The Evolution of Memory" in Ars Electronica 2013. Therefore, the exhibition period in ICC has been extended until September 29, 2013.
Channel ICC
---
Interview with exhibiting artists is available in Podcast "Channel ICC."
| >Details |