Photo: Dorothy Zeidman; © Robert Rauschenberg/VAGA, New York/SPDA, Tokyo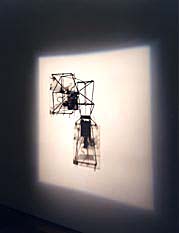 Photo: TAKAYAMA Kozo

Rauschenberg produced this work in collaboration with engineers Harold Hodges and Per Biorn. It was shown in 1964 as part of the "For Eyes and Ears" exhibition at the Cordier and Ekstrom Gallery in New York. Billy Kl

ver made the following comment about the work: "In contrast to the approximately thirty works in the exhibition that generated sound, Dry Cell was a 'sound absorbing piece.' Gallery visitors were invited to speak or make sounds into a microphone situated on the face of the work. The microphone was wired to a toy motor, which, when activated by sound, rotated a small propeller-like piece of metal. It should be noted that the image of the helicopter used in Kite has also been screened onto the plexiglas surface of this
work." (*1)
The microphone that picks up sounds made by the visitors functions as a switch to activate the motor. Since his White Painting (1951) Rauschenberg has been mindful of the environment that brings together his materials, the work, and the viewer. In Kl

ver's words, "Rauschenberg has always seen his work as an active participant in its own environment and the viewer as an active participant in the work. The final work is the result of a collaboration between the materials that go into the work, the artist and the viewer."(*2)
At the "Homage to David Tudor" event held in 1961 at the American Embassy in Paris, Rauschenberg attached a microphone to the canvas of John Cage's Variations II to amplify the sound of the painting during the concert, thereby producing his piece First Time Painting. (*3)
As an autonomous work that responds to sounds made by viewers, this is a forerunner of Soundings, his 1968 collaboration with Kl

ver and other
engineers. (*4)
The orientation toward sound evinced here would lead to his statement "from the visual to the aural" in reference to the "invisible environment" and would transform the design principle of the Pepsi Pavilion at "Expo '70 Osaka." (*5) [KAMIKANDA Kei]

*1 -- Smithsonian Institution, Robert Rauschenberg (Washington D.C.: National Collection of Fine Arts, 1976), 121.
*2 -- Robert Rauschenberg: Haywire-Major Technological Works of the 1960s(Munich: Verlag Gerd Hatje, 1997), 59.
*3 -- Robert Rauschenberg A Retrospective (New York: Guggenheim Museum, 1997), 115, 559-600, 615; Norma Loewen, Experiments in Art and Technology: A Descriptive History of the Organization (Ph.D. diss., New York University, 1975), 20.
*4 -- See the description of Rauschenberg's Revolver and Solstice.
*5 -- Loewen, 279.